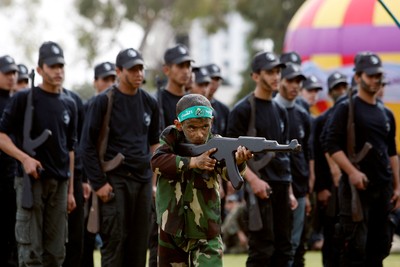 AP Photo
An
article
in London's
Telegraph
is refocusing attention on a school program run by Hamas in Gaza that trains children how to use weapons and explosives.
The "Futuwwa" program started last fall as an elective class and attracted thousands of teenaged boys, who are trained in everything from first aid to handling a Kalashnikov rifle to how to throw grenades. It is the brainchild of Hamas education chief Mohamed Siyam, who denied teenagers were receiving military training. Rather, he said, "we are providing information."
A video posted on Youtube indicates Siyam is being disingenuous. In it, Palestinian students attack an Israeli military post with guns and later seeming to blast it with a shoulder-fired rocket.
Though Hamas schools are gender segregated, Futuwwa may be open to girls next year. In a February column, Arab-Israeli journalist Khaled Abu Toameh criticized international human rights groups for their silence on "this form of child abuse."
"More disturbing is that only a few of the dozens of Western-funded human rights organizations that operate in the Gaza Strip have raised their voices against Hamas's abuse of children," Abu Toameh wrote. "Even the United Nations Children's Fund [UNICEF], which was created to work for children's rights, their survival, development and protection, has yet to condemn Hamas for recruiting school children to its military apparatus."
One Gaza-based human rights group, Al Mezan, has been critical, with spokesman Samar Zakout calling it "unbelievable" that Hamas would use schools "to create a resistance culture."
This is nothing new for Hamas, which has targeted the youngest school children with messages of jihad and martyrdom.
The program has the blessing of Hamas Prime Minister Ismail Haniyeh, who attended a January ceremony for the program, saying he wants to open a military college this fall.
Western nations need to consider this indoctrination in any discussion of a prospective Palestinian unity deal, or of whether to accept Hamas as an acceptable player in peace efforts, Abu Toameh wrote.
"By poisoning the hearts and minds of schoolchildren," he wrote, "Hamas is raising an entire generation of Palestinians on glorification of suicide bombers, jihad and terrorism."