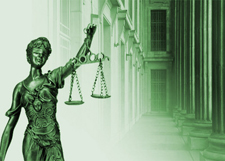 More than 80 percent of all convictions tied to international terrorist groups and homegrown terrorism since 9/11 involve defendants driven by a radical Islamist agenda, a review of Department of Justice statistics shows.
Though Muslims represent about 1 percent of the American population, they constitute defendants in 186 of the 228 cases DOJ lists.
On Thursday, the House Homeland Security Committee holds its first hearing into radicalization among Muslim Americans. Critics have taken issue with the focus on one religious minority, but the DOJ list shows that radical Islamists are disproportionately involved in terror-related crimes.
Al-Qaida is involved in the largest number of prosecutions, representing 30 percent of the 228 terror cases involving an identified group. Hizballah-affiliated defendants are involved in 10.5 percent of the cases and Hamas is part of 9 percent. Pakistani-based Lashkar-e-Tayyiba was involved in 6.5 percent of the cases.
The Tamil Tigers in Sri Lanka and the Colombian FARC lead the non-Islamist terrorist groups, combining for 14 percent of the total.
The Investigative Project on Terrorism analysis involved reviewing the Justice Department's list of more than 400 successful terrorism-related prosecutions from Sept. 11, 2001, through March 18, 2010. Those cases that demonstrated defendants with a clear Islamist agenda were placed in that category, while those without a clear tie to radical Islam were excluded. In some cases, defendants with Arabic-sounding names were excluded from the Islamist category, because no definitive tie could be made.
To see the individual case listings, and those which were considered Islamist in nature, click here. To see a separate rundown of more than 30 terror-related prosecution activity in 2010 alone, click here.
The cases listed by DOJ are divided between those involving direct support for terrorist plots or organizations, and those where investigations "involved an identified link to international terrorism" but the resulting indictments and complaints involved charges such as fraud, immigration violations, firearms, drugs, false statements and obstruction of justice.
Among all cases, an Islamist connection was found in at least 46 percent. An almost equal percentage, however, involved cases listed by the DOJ as terror-related, but in which there was insufficient information to determine whether a person was tied to an Islamist cause. In many, it was unclear why the case was included on a list of terror-related prosecutions.
The list emphasizes international terror, so domestic extremist groups like the Hutaree militia and eco-terrorists are not included.
Thirty of the terror cases listed, or about 13 percent, involve homegrown Islamist terrorists.
As the DOJ statistics cover cases prosecuted through March 2010, a series of homegrown Islamist terrorist plots thwarted in the last year are not included. For example, Jordanian Hossam Smadi pleaded guilty in May 2010 to attempting to use a weapon of mass destruction to blow up Fountain Place, a well-recognized skyscraper in downtown Dallas. In September of 2009, Smadi parked a vehicle loaded with what he thought was a live bomb underneath the building. After moving several blocks away from the building, he used a cell phone to detonate the explosive device. Smadi was unaware that the device, provided by the FBI, was inert.
The FBI gained interest in Smadi while monitoring a radical group online. According to the government, Smadi's "vehement intention" to carry out terrorist attacks on U.S. soil separated him from others in the group. Smadi's statements exhibited his Islamist beliefs. "To sacrifice in person is the best type of jihad," "Oh how I love, my brothers, to perform jihad with you in the same rank, in the same field against the same enemy" and statements of support for al-Qaida leaders like Osama bin Laden are just some examples given in a criminal complaint.
Similarly, the FBI arrested several men last fall in separate incidents who had attracted scrutiny due to their expressed desire to participate in violent jihad. Upon sending in agents to investigate further, the FBI discovered the men were all ready to take their rhetoric to the operational level. Farooque Ahmed plotted to attack the Washington, D.C. Metro system, Antonio Martinez targeted a military recruitment center in Maryland and Mohamed Osman Mohamud, tried to bomb a Portland, Ore. Christmas tree-lighting ceremony.
Prosecutors say Ahmed had been "inquiring about making contact with a terrorist organization in order to participate in jihad" overseas. He told someone he thought was a terrorist operative that he wanted to kill Americans in Afghanistan. He replied "of course" when the operative asked whether he wanted to become a martyr.
In a posting on his Facebook page, Martinez exclaimed that "The sword is cumin the reign of oppression is about 2 cease inshallah ta'ala YA mulismeen! Don't except the free world we are slaves of the Most High and never forget it!"
Mohamud attempted to contact an associate in Pakistan to make plans to travel abroad to prepare for violent jihad and wrote pieces for "Jihad Recollections," an online publication which condones violent jihad.
Nor does the DOJ list include pending cases, like the prosecution of seven North Carolina men who tried to wage jihad abroad and then talked of shifting to domestic targets when that didn't work, and most of the prosecutions of more than 20 people charged with providing material support for the Somali terrorist group al-Shabaab.
Examples of cases included in the DOJ list with direct ties to international terrorism include failed airplane bomber Umar Farouk Abdulmutallab and Lashkar-e-Tayyiba operative David Headley, who scouted targets for the 2009 Mumbai attacks.
Cases not directly tied to terrorism but that indirectly helped aid terrorist activity, include Sabri Benkahla, who was convicted in February 2007 on charges of lying to a grand jury, obstruction of justice and making a false statement. Benkahla was part of the "Virginia jihad network" of young Muslim men who played paintball to train for jihad against nations hostile to Islam, including the United States. The group's spiritual leader Ali Al-Timimi is serving a life sentence for inciting terrorist activity by urging followers to wage jihad against American forces in Afghanistan.
In another case, Fawaz Damra, former imam of the Islamic Center of Cleveland, was convicted by a federal jury in 2004 of lying on his naturalization application about his involvement with the Palestinian Islamic Jihad (PIJ), a designated terrorist organization. Evidence presented at his trial included a 1991 speech in which Damra called Jews "the sons of monkeys and pigs" and openly raised money for the PIJ. Damra was subsequently stripped off his U.S. citizenship and deported to the Palestinian territories.
The DOJ list does not demonstrate that vast segments of the Muslim community constitute a threat to carry out terrorist attacks or support groups which do. Assuming a Muslim American population of about 5 million people, the DOJ cases amount to .00004 percent of the community.
However, it is clear that Islamist terrorist movements have been successful in getting support from extremists in the United States. As other recent hearings have shown, more sophisticated online recruitment has helped lure more people to seek jihad.
Unless that trend changes, the DOJ data likely will grow even more disproportionate.