Hizballah Fundraising and Operations in the US and Latin America
IPT News
December 27, 2011
http://www.investigativeproject.org/3358/hizballah-fundraising-and-operations-in-the-us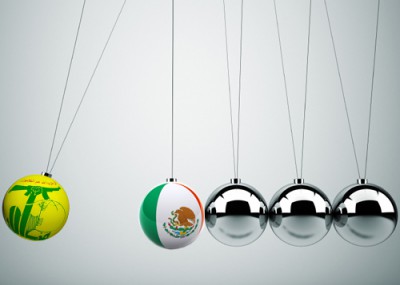 A series of recent law enforcement actions indicates the depth of Iranian-tied criminal activity in Mexico may be greater than previously known.
In October, a Texas-car salesman was arrested in connection with an Iranian plot to kill Saudi Arabia's ambassador to Washington. Prosecutors say officials in Iran's Revolutionary Guard Corps believed they were dealing with a "large and sophisticated" Mexican drug cartel to carry out the hit. A $100,000 down payment on the hit shows the Iranians were comfortable dealing with the cartel representative, who in fact was a Drug Enforcement Administration (DEA) informant.
Earlier this month, prosecutors in Virginia unsealed an indictment charging a Lebanese man, Ayman Joumaa, with smuggling more than 100 tons of Colombian cocaine with the Los Zetas Mexican drug cartel. Hizballah, an Iranian proxy in Lebanon, "derived financial support from the criminal activities of Joumaa's network," the U.S. Treasury Department claimed earlier this year.
Hizballah has a long history of violent attacks against U.S. and Israeli targets. In 1983 the Lebanon-based group was accused of bombing the U.S. Marine barracks in Beirut that killed 240 soldiers. Hizballah, along with its patron Iran, have been hconsidered responsible for the attacks on the Israeli Embassy in Argentina in 1992 and a Jewish cultural center in Buenos Aires in 1994. Hizballah also has extensive contacts in Latin America and within the United States.
In the plot against the Saudi ambassador, suspect Manssor Arbabsiar allegedly told law enforcement agents following his arrest that "he was recruited, funded and directed by men he understood to be senior officials in Iran's Qods Force." While the complaint does not name the Zetas, it describes the cartel the Iranians thought that they were dealing with as having "engaged in numerous acts of violence, including assassinations and murders."
The law enforcement actions come amid a recent report citing Israeli intelligence saying Hizballah's funding from traditional state sponsors such as Iran and Syria has declined sharply. That financial crunch may be leading the Shiite group to build alliances with Mexican drug syndicates and increasingly fund its terrorist operations through profits from the lucrative South American cocaine trade.
If true, the U.S. law enforcement actions may further erode Hizballah's finances.
A Treasury designation, a criminal indictment and a civil lawsuit allege the Lebanese drug dealer Ayman Joumaa is part of a complex cocaine and automobile smuggling enterprise in the United States and West Africa that handles hundreds of millions of dollars each month. Some of those profits were routed to Hizballah through the Lebanese Canadian Bank (LCB).
More than $300 million was wired into the United States through Lebanese financial institutions, according to the civil suit. The money laundering scheme allegedly involves at least 30 car dealerships throughout the country. As part of the investigation, federal agents raided a dealership in Tulsa.
"They're making big time money and it's going right into weapons acquisition, terrorist training, recruiting, corruption," DEA official Rusty Payne told Fox News. "Things needed to carry out terrorist attacks around the world. Some of the money is flowing back to the United States, back to these used car companies, to purchase more used cars to ship them to West Africa to sell those at a profit and then mix those used car proceeds in with the drug dollars."
The growing nexus between Hizballah and Mexican drug cartels allows the Iran-backed extremist group to make use of drug cartel transit routes to gain entry into the United States through its porous border with Mexico. Hizballah, in turn, offers Mexican syndicates expertise on smuggling and explosives as well as access to its drug trafficking networks in the Middle East and South Asia.
Iran-backed Hizballah and Mexican drug syndicates share "the same criminal weapons smugglers, document traffickers and transportation experts," former DEA operations chief Michael Braun told the Washington Times. "They rely on the same shadow facilitators. One way or another they're all connected."
Braun also alleged that members of Iran's Quds Force are "commanding and controlling" Hizballah's criminal operations in Latin America.
Cases Show Operatives Smuggled In
A leaked September 2010 Tucson Police Department internal memo talks of growing ties between Hizballah operatives and Mexican drug traffickers. It notes an increasing use of improvised explosive devices and car bombs by Mexican DTO's that suggest a growing collusion with the Hizballah militant groups which specialize in such explosive devices.
Border authorities have also discovered a number of "narcotunnels" along the U.S.-Mexican border that are used by cartels to get narcotics into the U.S. from Mexico. "There is growing concern that Hezbollah is providing technology for the increasingly sophisticated narco tunnels now being found along the U.S.-Mexican border, which strongly resemble the types used by Hezbollah in Lebanon." noted national security consultant Douglas Farah during October 2011 testimony before the House Foreign Affairs Committee.
In a June 2010 letter to Homeland Security Secretary Janet Napolitano, Rep. Sue Myrick, R-N.C., called for "more intelligence gathering" on rising Hizballah criminal activity in Mexico. "Across states in the Southwest, well trained officials are beginning to notice the tattoos of gang members in prisons are being written in Farsi. We have typically seen tattoos in Arabic, but Farsi implies a Persian influence that can likely be traced back to Iran and its proxy army, Hezbollah."
A series of cases in the past decade offers examples of Hizballah activity in Mexico:
Iran and Hizballah militants are making common cause with Mexican narco-traffickers as part of their broader, more global, asymmetric warfare against the United States. The threat is particularly menacing given Hizballah and Iran's active presence and extensive network in the broader Latin American region and state support from governments in Venezuela, Bolivia, Ecuador, and Nicaragua.
In testimony before a House Homeland Security subcommittee, former U.S. ambassador to the Organization of American States, Roger F. Noriega, highlighted the danger posed to U.S. homeland security from growing Hizballah presence in Latin America, including Mexico:
"The more broad implication for U.S. homeland security is that Hezbollah—via Iran and Venezuela—has engaged the United States in an offensive strategy of asymmetric warfare on our doorstep. It is aiming to win the mental battle of attrition and the moral battle of legitimacy—particularly with the youth in Latin America. Unless our government recognizes and responds to their efforts, our ability to protect our interests and our homeland will be gradually and dangerously diminished."
Related Topics: Hizballah, Prosecutions, Iranian Revolutionary Guard Corps, Drug Enforcement Administration, Treasury Department, Lebanese Canadian Bank, Michael Braun, Mexico, Latin America, Jamal Yousef, Jameel Nasr, Mahmoud Youssef Kourani, Salim Boughader-Mucharrafille, Manssor Arbabsiar, Hizballah, Prosecutions
Reader comments on this item
Frightening Statistics
Submitted by Ronnie G., Jan 13, 2012 15:09
I heard Mr. Emerson this morning on 970am radio here in New York. He makes a most convincing case against the infiltration of radical Islam into this country as well as the dangerous threat that Iran poses. I can only hope and pray that our next President (not Obama) will stem the tide of illegal immigration as well as legal immigration into this country. He stated that not only is this administration aware of, but they are complicit with the dealings of the Muslim Brotherhood. An organization that aligned itself with Hitler during WWII. Does it get any more frightening than that?
smuggling Iranians
Submitted by Thomas Wells, Dec 29, 2011 19:47
Estimate the number of Iranian and other jihadist group members into the USA from our southern boarder. Add their luggage such as biochemical,biological,and nuclear equipment. Also add the number of jihadists coming in through educational visas to study these areas at our universities and laboratories. Then add the special business visas and the regular visas. The sum of all this is an army already in place in America,with access to maps,airplanes,vehicles,reconniassance,weapons of mass destruction / small arms, and the knowledge of where to easily obtain the ingrediants for poison gases ,explosives,the release of radioisotopes, and ways to serious damage our electrical grid. If you are not a tad paranoid,you are not paying attention.
Islam, the Peaceful Religion
Submitted by Peter Pumpkin Eater, Dec 28, 2011 21:21
Those Islamists, always putting the peaceful word of "God" first! lol
Comment on this item