"Moderate" Qaradawi Defends Hitler and Nuclear Terror
IPT News
November 9, 2010
http://www.investigativeproject.org/2315/moderate-qaradawi-defends-hitler-and-nuclear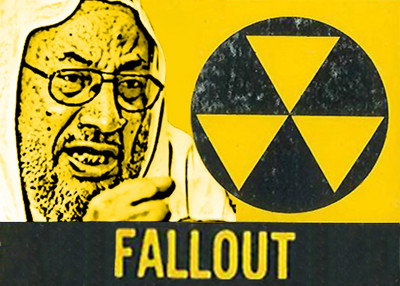 During the past month, Imam Yusuf al-Qaradawi, spiritual guide to the Muslim Brotherhood, has called on Muslims to acquire nuclear weapons "to terrorize their enemies." He also boycotted an interfaith meeting with Jews on grounds he believes they support murdering Muslims in Palestine, and he additionally said Muslims are permitted to kill Israeli women because they serve in the army.
This continues Qaradawi's long-established support of violent jihad. But despite this record, he has been embraced as a "moderate" Muslim by his defenders in the West and the Arab world. In a September interview, former London Mayor Ken Livingstone said "the fact that Sheikh Qaradawi has been banned [from Britain] is a disgrace; he is one of the leading progressive voices in the Muslim world." Livingstone blamed "a huge smear campaign organized by Zionists."
In America, John Esposito, a religious scholar who is close to the Brotherhood, has called Qaradawi a supporter of a "reformist interpretation of Islam and its relationship to democracy, pluralism and human rights." The Council on American-Islamic Relations (CAIR) and prominent Islamists like Tariq Ramadan, grandson of Muslim Brotherhood founder Hasan al-Banna, have expressed similar sentiments about Qaradawi.
Barrie Osborne, producer of Hollywood blockbusters like The Lord of the Rings and The Matrix, has hired Qaradawi as a consultant for a movie about the Prophet Mohammed. Last month, Qaradawi was given a medal for public service by King Abdullah of Jordan.
Qaradawi has won these awards despite a long record of anti-Semitism and advocating violence against purported enemies of islam. Consider the following examples:
In an interview last month with Al-Jazeera's Arabic-language service, Qaradawi was asked if Muslims should try to get atomic weapons "to terrorize their enemies." Qaradawi replied that this goal would be permissible, saying he was "happy" to learn that Pakistan had such a nuclear weapon to defend itself. Qaradawi explained that that was the meaning of Koranic verses urging Muslims "to terrorize thereby the enemy of God and your enemy."
Support for Iran and Muslim rights to possess nuclear technology have been recurring themes for Qaradawi.
"It is obligatory on all Muslims to resist any possible attack the US might launch against Iran," Qaradawi said in a 2007 interview. "The U.S. is an enemy of Islam that has already declared war on Islam under the disguise of war on terrorism and provides Israel with unlimited support."
It was wrong to deny Iran the right to ostensibly peaceful nuclear technology so long as the United States and Israel had nuclear weapons, he said.
Last month, Qaradawi boycotted the 8th Doha International Center for Interfaith Dialogue conference in Qatar, saying he opposes discourse with Jews on principle.
"How can we conduct a dialogue in a time when they seize lands, shed blood, burn farms, and demolish houses? Palestine's conundrum has to be resolved first before we sit together at the same table," he said.
A source close to Qaradawi told the Egyptian newspaper al-Masry al-Youm that the imam does not oppose talking to Jews because of their religious affiliation, noting that he has met with representatives of the anti-Zionist Neturai Karta, an organization seen here attending a Holocaust-denial conference staged by Iranian President Mahmoud Ahmadinejad.
The Neturai Karta are Jews who reject the principles of Zionism and the occupation of Muslim lands, although "the majority of Jews at present are with the actions of murder in Palestine," the source said in explaining Qaradawi's willingness to talk to the group.
In a recorded address last month to a Hamas-organized parley in Gaza, Qaradawi said Palestinians must continue violence against Israel.
"Arms must not be laid down; he who wants freedom must pay the price. Independence is not given as alms," Qaradawi said. According to the Arabic-language newspaper al-Watan, Qaradawi stated: "We must irrigate [the] tree of freedom with our blood. We must not leave the Palestinians alone." Every Muslim "must play his part to help our brothers in Palestine until they obtain their rights," he said. "Not one inch of the Land of Islam must remain in the grasp of infidels and occupiers."
Qaradawi may hold more tolerant views on other issues. But when it comes to terrorism and anti-Semitism, his words and the consistency with which he offers them, speak for themselves.
Related Topics: Yusuf al-Qaradawi, Yusuf al-Qaradawi
Reader comments on this item
Yusuf al-Qaradwi's Mirage of Rome;s conquest.
Submitted by Kenneth V. TELLIS, May 23, 2012 22:18
i'D LOVE TO SHARE A HAM SANDWICH WITH YUSUF AL-QARADAWI. AFTER ALL HE SHOULD THINK ABOUT HIS MIRAGE OF CONQUERING ROME. NOW HE CAN EAT A DECENT MEAL AND SCOFF ON PORK.
re: "how"
Submitted by JoelB, Feb 21, 2011 11:55
... you should turn on your spell check and stop drinking the koolaid LOL
he does not live on the usa
Submitted by how, Jan 2, 2011 16:16
Well, what america brought to the world is just war, hanger and ullision, how to explain that there are about 50 millions of american citizen living in pauverty worse than a third world, why you are so closed mind and scared from man who that i got only one God, why you are scared from a man who say that interest loans and mortage is a sin because its make humanbeing live in difficulties, to face day to day life, why you are so insure about the principles of the democratie which are intrue it those name the occident still kill people in other part of the world (Irak, Africa and Asia) one question what have you given to this humanity from which you seem to be protecting protecting from what from just one man, so one man cam make and stand against america poor america so fragile against ISLAM
Herr Hiter, Nazisuim, Nukes.
Submitted by A R Thompson, Nov 22, 2010 13:31
Its about time, we all wake up, and stop have moral issues. For if they talk about death & destuction, give them what they talk about, so there evil tongues my be silenced.
We have fought two World wars, and now another one is due,this time it will be, The War of The Muslims for they have pick up the Banner of Hate & Destuction,but you have only received a sample of whats is to come unless you wake up from your slumber.
For is evilness in all Religions but it is evil people that twist there Faith and turn peoples minds and manipulate them to there own advantage which leads to death destuction.
All Western Nations including Russia,China,and Japan,need to rethink for there Future and put there minor problems aside, because you got a storm brewing of bilical proportions.
Qaradawi the extremist
Submitted by kalemol, Nov 10, 2010 03:28
There are still people who consider Qaradawi and his ilk 'moderates'.
More Reader Comments
Comment on this item